Special Offer
Try Us Out!
Call us to find out about our current Special Offer!
770-321-4550
New Client Form
View our New Client Form. Print it out, fill it in and give us a call today! Download New Client Form
Join Us on Facebook

Like us on Facebook and keep up with the latest from the studio and your friends at Fit for Life!
Services Offered at Fit for Life
Membership Options
Thank you for considering our club!
Please keep in mind that we want to be more than just a place where you have a membership. We feel strongly about fitness and what it can do in your life and we want to help you get the most out of your time with us.
Our Club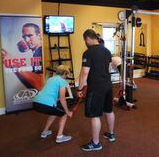 We are a family owned club doing business since 1997. We promise to never raise rates as long as you're a member of this club. Simply stay current with your membership and we will honor your rate for as many years as you wish to be a member here. Our mission is simple: We want to be the best part of your day. Every day!
$69 Trial Membership
Everyone who is considering joining our club is given the option to try our club with our $69 trial membership. We feel we have the best club in town but talk is cheap. We want you to come meet our staff, meet the other members and give us a chance to earn your business.

Our Trial Membership includes:
2 Personal Training Sessions
Fitness Assessment
Body Composition Analysis
An Individualized Program Design
At the end of the trial membership, if we are not the club for you, simply walk away and you will be under no further obligation. Many people who come through our doors have already made up their mind to join the club through referral or by our reputation in the community, but for those who haven't yet decided, trying before you commit is the best way to get started.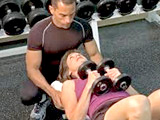 Monthly Membership Options

Private Personal Training-Individuals
Introductory Package
(for new clients only)
(2) Sessions, Fitness Assessment and Body Composition Analysis-Only $69

Individual Packages
Fit 45(45 mins) - 10 Sessions @ $60 - $600
Fit Pump(30 mins) - 10 Sessions @ $45 - $450

Partner Personal Trailing
Fit 45(45 mins) - 10 Sessions @ $85 - $850
Fit Pump(30 mins) - 10 Sessions @ $70 - $700
Extra sessions may be purchased at the applicable rate.
Blog
Our blog is updated regularly with the latest fitness news, new equipment announcements and more. Fit for Life Blog .
AdvoCare

Since 1993, AdvoCare has been a world-class nutrition company specializing in health and wellness, weight management, vibrant energy and sports performance. Visit our website: AdvoCare.