Special Offer
Try Us Out!
Call us to find out about our current Special Offer! 770-321-4550
New Client Form
View our New Client Form. Print it out, fill it in and give us a call today! Download New Client Form
New Video
Click to see what our clients are saying about us!
Our Studio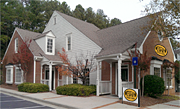 The Fit for Life East Cobb studio has a full array of equipment to suit nearly any type of workout routine. The lastest machines as well as free weights, kettle bells, medicine balls, cardio equipment and the best personal training staff in East Cobb!
Why Diets Fail
Discover Why Diets Fail
in this Free eBook!
Instant Download!
Name:
Email:
Ty Jones, Owner

Ty Jones passion for fitness began in 1983 as a baseball player at Mercer and ...more
AdvoCare

Since 1993, AdvoCare has been a world-class nutrition company specializing in health and wellness, weight management, vibrant energy and sports performance. Visit our website: AdvoCare.
Blog
Our blog is updated regularly with the latest fitness news, new equipment announcements and more. Fit for Life Blog .